Archive for the 'makeup' Category
We recently had beautiful, new gift certificates printed on pearl paper (swoon!)  Give your wife/daughter/sister/mother/significant-other the gift of beauty!  Our most popular service to give is a 2-hour private makeup lesson (includes a take-home color/instruction chart and all!)  Contact us to purchase your gift certificate just in time for Valentine's Day!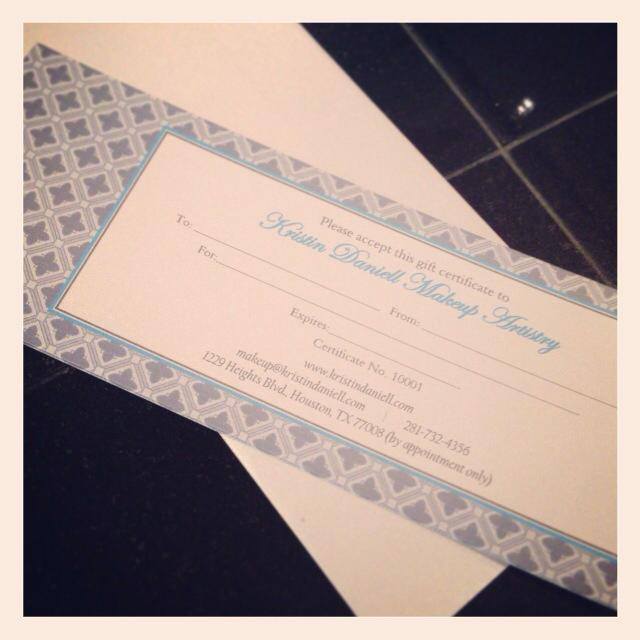 I had the privilege of working with such an amazing team on a recent "red & gold beauty shoot" a couple of months ago!  I was so pleased with the photos from the amazing Kayla Barker Photography, that I just HAD to share some of them with you!  I kept the gorgeous model's makeup very soft and natural with gold highlights on her eyes.  I loosely pulled back her hair in a low, romantic updo to finish off the look.  We were going for a vintage/romantic look, and I think we achieved it!

  ENJOY!
Photography + Concept: Kayla Barker / http://www.kaylabarker.com/
Florals: Bricolage Curated Florals / http://bricolagecf.com/
Furnishings: Loot Vintage Rentals / http://www.lootvintagerentals.com/
Stationary: East Six / http://www.eastsix.com/
Dresses: Reem Acra / Bibhu Mohapatra / http://www.bibhu.com/
Jewelry: Elizabeth Cole / http://www.elizabethcolejewelry.com/  / Stella & Dot / http://www.stelladot.com/
Hair & Make-Up: Kristin Daniell Makeup Artistry / http://www.kristindaniell.com/
Model: Janzen Jackson / http://www.janzenjackson.org/
We understand that not everyone has the luxury of having their own private makeup artist for their wedding day, so we wanted to offer you some of our favorite tips for applying bridal makeup!  First off, make sure you practice at least once before your big day – and make sure to give yourself plenty of time to apply your makeup (with no distractions, if possible!)
-  Prep your skin well!  If you have oily skin or if you are getting married in the summer months, use Urban Decay De-Slick!  If you have normal to dry skin, we love NARS Oil Free Primer!
-  Avoid any products with SPF/sunscreen in them!  This will cause a reflection and make your face look much lighter than your body!
-  Stay away from powders, bronzers, and blushes with shimmer in them – unless you have extremely dry skin (then you can use sparingly)!
-  Use as many waterproof/sweatproof products as possible – concealer, mascara, eyeliner, etc.!
-  Wear one shade darker/brighter of lipstick and a little more blush than you normally would wear!  You don't want to look washed out!
-  Avoid "trendy" makeup!  You don't want to look at your wedding pictures in 20 years and wonder what in the world you were thinking!! ; )
-  Remember…you will be wearing the most elegant, beautiful dress and this is a special day/night — you won't want to wear your "everyday" makeup!  You want to look and feel more gorgeous than ever!!
-  Carry tissues with you to "blot" your face if you get sweaty or shiny!  Make sure you also carry your lip products with you to touch up before the ceremony, after the ceremony, and during your reception!
-  Smile, take a deep breath, relax, and know that this is going to be one of the most fun, special, memorable days of your life!!