Top things to know and/or do BEFORE hiring a Professional Makeup Artist!!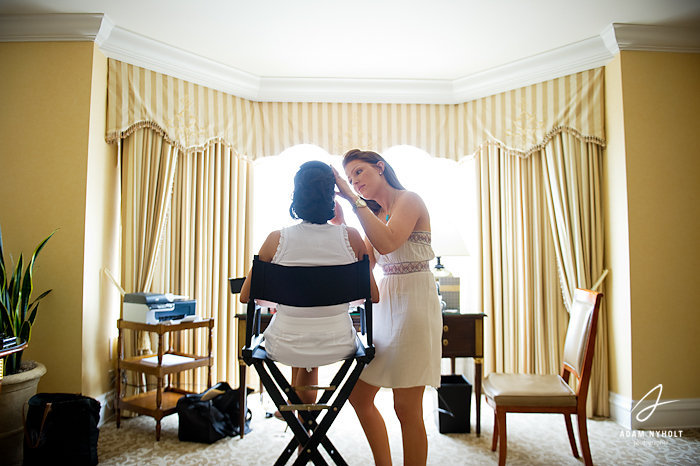 I have heard so many horror stories about people hiring "professional" makeup artists for their big day or special event!  Chances are, whatever the reason you are getting your makeup done is a special one…so why take the chance on not really knowing who you are hiring?!
I have compiled a list of things to know and/or do before hiring a makeup artist to help you out (whether it's me or someone else you hire)!
1. Make sure you see pictures of their work! Lots of professional pictures are airbrushed these days, so make sure you are seeing edited, as well as unedited photos.  You want someone who understands that your makeup needs to look just as flawless in person as it does in the camera!
2. Find someone with experience! Someone with their own company and/or lots of experience is more likely to do an amazing job, because that's primarily what they do!  Generally, they will be more professional because it is their name on the line!
3. Sign a contract! This gives both you and the makeup artist peace of mind.  In some circumstances a contract isn't completely necessary, but if you are hiring a makeup artist for your wedding or special event, I highly recommend it!  The artist should provide you with the completed contract.
4. Know what products the makeup artist uses! You want high-quality products that will last!  What is the point of having your makeup done if it's going to fade in an hour or two?  Find someone who uses all or mostly waterproof/smudge-proof makeup….especially if there is a possibility of tears on your special day!  ; )  Also, generally speaking, the higher quality of the product, the less chance you will have of breakouts/reactions.
5. Communicate with your artist! Hire them for a "trial-run" or communicate with them to discuss what look you are wanting to achieve.  If you are unsure, they should be able to suggest certain looks depending on what type of event/occasion you are having.  Make sure they understand what you want and don't just slap on what they feel like at the moment!
6. Read reviews! If there are not reviews listed on their website, ask for references!  You want to know that their work is flawless and that they are dependable!
7. The majority of the time, you get what you pay for! Ideally, you want someone who will not only make you look good, but make you feel good about yourself as well!  You want to look like the best version of YOU!
8. Personality! This is so important…especially if it's on a could-be "stressful" day!  You want someone who will help you to relax and make you feel at ease.  It's important to hire someone you can trust…in all aspects….to make you look and feel flawless, to show up on time, and to ease your mind those last moments before you walk down the isle (or whatever it is you are doing)!
…and last, but certainly NOT least…..

9. Sanitize!! Make sure you hire an artist that sanitizes their products!  They should come with clean brushes, disposable applicators, and wash/sanitize their hands before even touching your face!!