Turn that dull, dry winter skin into an AMAZING glow!!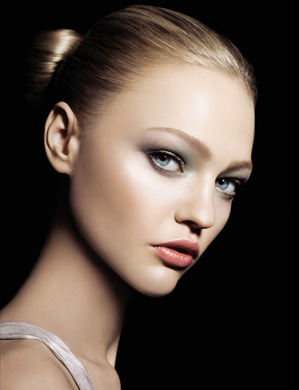 *********
Winter is finally approaching and we can all feel it with our dull, dry skin and chapped lips!  Want to get that healthy "summer glow" back?!  I'll show you how with some of my very favorite MUST-HAVE products!!!
*********

* Jan Marini Clean Zyme + Skin Zyme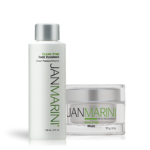 I absolutely LOVE this two step system!!!  ANYONE with ANY skin type can use this, and I'll tell you why!  It digests dead skin cells (like exfoliating, only without the harsh scrub or chemicals) to revel a new, glowing layer of skin!  If you have acne or breakouts, this stuff clears them up too (without irritating the acne)!  The second I see a breakout coming, I use this and it's gone the next day!  If you are using any glycolics or retinols, this product is the perfect compliment to them!  Your skin will be SO silky and soft, and you will have the most radiant glow!  I use this once or twice a week in the following order:  Clean skin with the Clean Zyme cleanser, dry skin with towel, put a light layer of the Skin Zyme mask all over (avoiding eye area), wet hands and massage in the mask a little more, leave on for 20-30 minutes, then remove with the Clean Zyme cleanser and a wet washcloth.
*
*  A good moisturizer with ANTIOXIDANTS! (like Jan Marini Antioxidant Hydro Silk)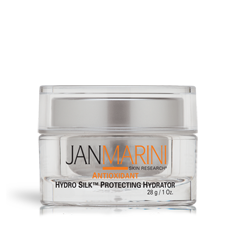 Antioxidants are great for repairing damaged skin, preventing future damage, and giving you a nice, healthy GLOW!  Our environment (the sun, pollution, smoke, etc.) ages our skin, so we have to stop/reverse that aging!   Any moisturizer with antioxidants and/or Vitamin C is great to aid in skin damage/aging.  However, the great thing about this Hydro Silk moisturizer is that ANY skin type can use it!!  It actually has a self-regulating absorption, so depending on how oily/dry your skin is, it will only absorb what it requires!!!  How cool is that?!!
*
*  A good, rich, anti-aging eye cream! (like Jan Marini's Transformation Eye Cream)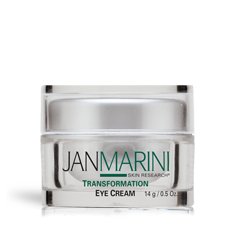 I am shocked by the number of people who don't wear eye cream!!  The thinnest skin on your body is around your eye area, therefore, it's the quickest area to show signs of aging!!  Eye creams are made specifically to protect that area without being to harsh.  This eye cream from Jan Marini (can you tell I'm a HUGE fan of Jan Marini?!!) dramatically retexturizes and smooths the eye area, minimizing signs of aging.  Use this product under your eyes (under makeup obviously) and across your brow bone for the ultimate "lift"!
*
*  Smashbox Halo Powder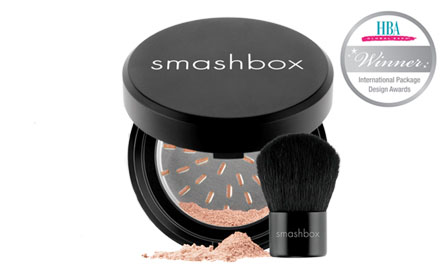 I can not explain to you how OBSESSED I am with this product!!!!  I have tried to find other powders that even come CLOSE, and nothing compares!!!!!  This powder is unlike any other powder because it gives you a RADIANT GLOW, instead of a dull, matte, flat finish.  Not only does it give you a glow, but it actually hydrates your skin and minimizes wrinkles….GENIUS!  A little bit goes a long way… "buff" it into your skin in a circular motion by itself (it will give you a little coverage alone), over a tinted moisturizer (for a light to medium coverage), or over your favorite foundation (for a medium/full coverage).  This product is a little pricey, but I promise you it's worth every penny and more!!
*
*  Too Faced Chocolate Bronzer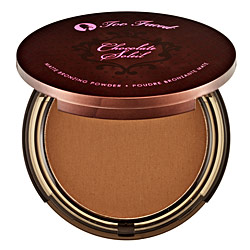 Another product I'm obsessed with!  This bronzer is not only a sheer BROWN color, but it smells AMAZING!  It has cocoa powder in it, so it smells delicious and gives you a true "bronze" color without the streaky, orange color most bronzers give you!  It's also matte so it gives you a CLEAN, bronze glow without the sparkles that most bronzers have.   The right bronzer can help turn that pasty, dull complexion into a warm, winter GLOW!  Regardless of your skin color (Nicole Kidman to Halle Berry), it's a MUST-HAVE for everyone!!!
*
*  MAC Lip Conditioner with SPF 15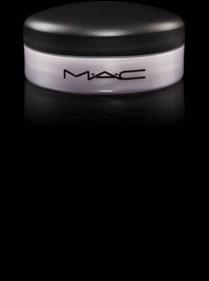 I have the most DRY lips year round and I have tried everything!  The ONLY things that actually HYDRATES and protects my lips is this MAC Lip Conditioner!  I swear by it!!  I use the clear lip conditioner under my lipstick/gloss, but it also comes in tinted colors if you want to wear it by itself and still have color!  My favorite thing about this product is that it's creamy/silky and not slimy or waxy feeling like most lip balms!  This is a must have….especially in the dry, winter months!!!
*
***  DID YOU KNOW…..that dry skin is the first to show signs of aging!!  Take care of your skin….gorgeous skin not only makes you look beautiful, but FEEL beautiful!   : )